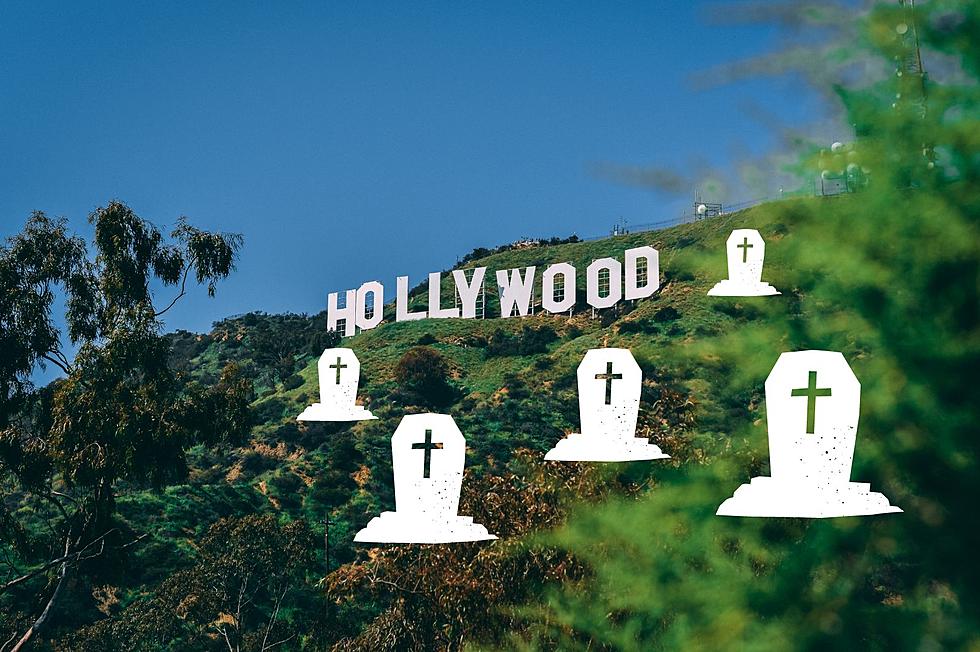 Here's 5 Of The Most Famous People Buried In Montana.
Canva
For many, their final resting place is a big decision.
Maybe you want to be buried next to your family, or maybe you want to be laid to rest in your hometown. Maybe you desire to be in a well-kept cemetery or just a place on the family farm.
Whatever you choose, it can be a place for those who love you to visit and reflect on how much you meant to them while you were here on the earth.  With that being said, let's take a look at a few famous folks that decided to make Montana their final resting place.
While there are several historic figures buried throughout The Treasure State, we are going to focus on folks that have passed in the last 75 years or so.
Evel Knievel
If you were a kid of the 70s or early 80s you no doubt had the Evel Knievel stunt cycle that you could wind up and let rip across the kitchen floor.  Knievel, a Butte native was one of the most popular people in the plant a few decades ago as he traveled the world performing death-defying stunts, including trying to jump Snake River with the "Sky Cycle X-2".
Knievel passed away in 2007 and is buried in the Mountain View Cemetary in Butte. On a side note, Knievel's son Robbie, also a daredevil recently passed away and there will be a special service in Butte in July.
Liz Claiborne
This fashion guru was born in Belgium back in 1929 and passed away in New York in 2007, however, her final resting place is located on a ranch near Helena.  Claiborne became famous for designing a line of fashionable clothing for working women that wasn't overpriced. Over the years, her company, which continues today has spanned out to also create a line of accessories as well.
Chet Huntley
Chet Huntley was born in Cardwell Montana back in 1911 and would become one of the most respected news reporters in America.  In fact, Huntley would team up with David Brinkley for the "Huntley-Brinkley Report" which would air on NBC from 1956 until 1970. Huntly would pass away in 1974 in Bozeman and is buried in the Sunset Hills Cemetary.
Hoyt Axton
Axton was born in Oklahoma back in 1938 and would go on to play college football, write and sing songs, and act in movies. In fact, one of Axton's claims to fame was co-writing Heartbreak Hotel for Elvis, plus the No No song for Ringo Star as well as Joy To The World for Three Dog Night.  Axton would go on to have a popular singing career, with one of his most popular songs being "Della and the Dealer".  Axton would also appear in many television shows and movies, including The Black Stallion and Gremlins.
He passed away in Victor Montana back in 1999 and is buried in Riverview Cemetary in Hamilton.
Dwight Clark
Dwight Clark, who would be part of one of the most famous plays in NFL history was born in North Carolina back in 1957.  Clark would go on to play with the San Fransico 49ers and was on the receiving end of "The Catch" from Hall of Fame Quarterback Joe Montana that would propel the 49ers to the Super Bowl and begin their dynasty. Clark would go on to win two rings with the 49ers and would later become the General Manager of both the 49ers and the Cleveland Browns.
He was diagnosed with ALS in 2017 and passed away in Whitefish in 2018.  He is buried on a ranch near Kalispell.
9 Professional Athletes and Coaches That Hang Out in Montana
Who wouldn't want a little slice of heaven?
The 13 Best Celebrity Sightings in Montana During 2022
Many folks love coming to Montana to unwind and enjoy themselves, and celebrities are no different. Here are the best celebrity sightings of 2022.
Tourists Can't Pronounce These Five Montana Towns
Montana is a place that is filled with towns and cities with rich histories. The issue that some folks have is that these towns might seem tough to pronounce. Easy for locals, not for tourists.