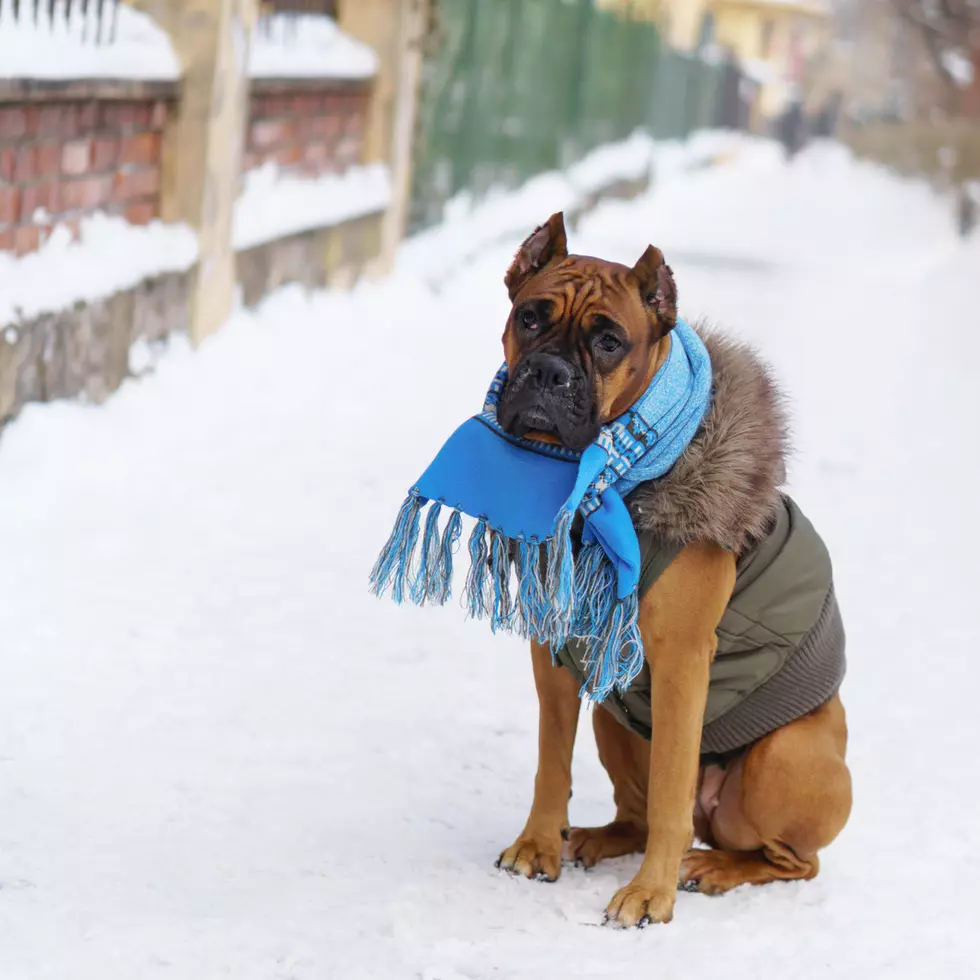 5 Ways to Protect Pets This Winter (LOOK)
Prystai
Winter just reared its ugly head upon our state with a vengeance, in autumn! Wow, right? 
I don't have to tell you to bust out the winter jackets and boots for everyone. What about the pets?  
In Montana, even in "autumn" snow, it still gets below zero at times. Does your pup need winter gear as well? Maybe, maybe not. Unless you have a husky, I'm sure the pup's feet and coat are just a bit subpar for the cold snap.  
My dog Penelope can be a bit finicky when it comes to winter wear. She likes T-shirts and harnesses to a point, and she does NOT like doggy boots. All shapes, sizes and brands will come off and I won't find the until spring thaw. This year I'm going to try again because, well, I'm persistent, or stupid. I don't know. 
Here are some examples of some stuff on Amazon that you may like and find useful, some of this stuff is for small pups like mine, but if you need bigger sizes, Amazon will surely have something for you.  
Hoodie
It looks more like a gator. If your pooch can handle the cold for the most part, then this will keep the comfortable at an affordable price. Try it, and buy it here.

Small Vest
This one is nice for a walk on a cold morning when the sun is shining or a mild day. Super affordable as well. Keep em warm in style here.

Puffy Turtleneck
Next, we have cozy puffer jacket for those long winter play dates at the dog park. Stay cozy with this puffer here.

Balm for those Toe Beans
Elements can be bad for the pads. Protect those puppy paws from dirt, salt, and other chemicals. Pawtection is right here.
Dog Shoes and boots
Finally, since we're talkin' paws. You wouldn't walk around on the freezing ground barefoot, would ya? That question, I'll admit is a little ridiculous, but these dog shoes are here for traction and in some cases are waterproof. Nice addition for winter safety right here.

Do you gear your pet up for winter? Let us know, and maybe even send a picture on social media. 
LOOK: Here are the pets banned in each state
Because the regulation of exotic animals is left to states, some organizations, including The Humane Society of the United States, advocate for federal, standardized legislation that would ban owning large cats, bears, primates, and large poisonous snakes as pets.
Read on to see which pets are banned in your home state, as well as across the nation.