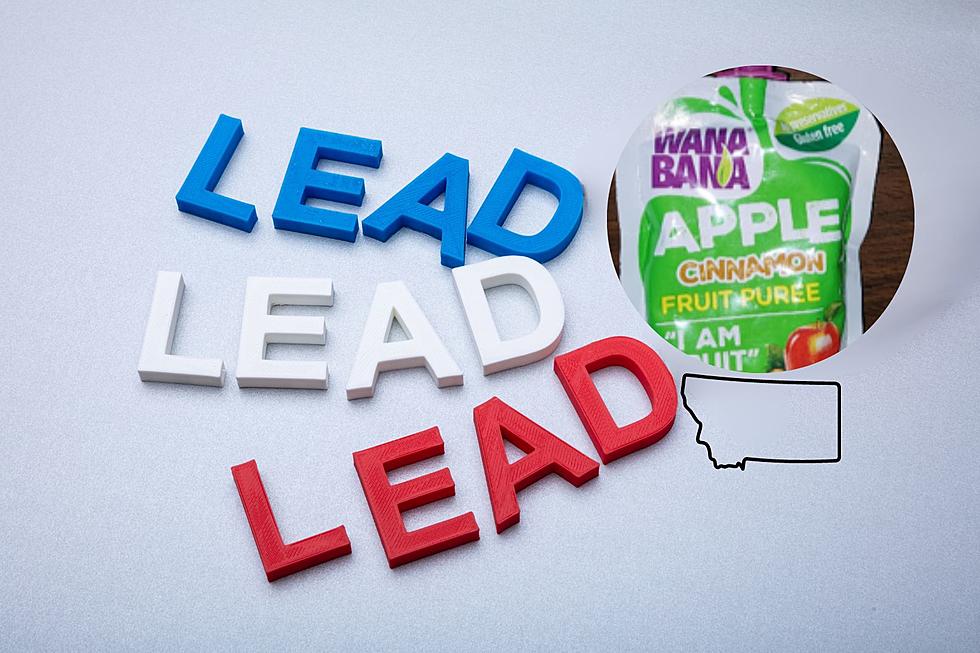 Montana Parents: Lead Found In Children's Fruit Snack Pouches
FDA.gov//Canva
Update:  November 17, 2023
From Consumer Reports:
Update, Nov. 14, 2023: The Food and Drug Administration said there are now 22 illnesses potentially linked to the recalled WanaBana Apple Cinnamon Fruit Purée Pouches. No illnesses have yet been linked to the recalled products from Schnucks (recalled lot codes: 05023:19, 09023:22, and 09023:24) or Weis (lot code 05023:28), according to the FDA's announcement.
If your child has consumed any of these products, please get them into the doctor for lead testing.
ANOTHER product recall in Montana to report
Before I get into the latest item being recalled, is it just me, or does America really need to get back to the days where the lives of consumers was more important than the profit made by a corporation?  Oh wait, this is America where corporations count more than people, so let's get on with the next food recall.
From the FDA website:
WanaBana And Schnucks Fruit Puree Pouches Being Recalled
WanaBana apple cinnamon fruit puree pouches (sold nationally through multiple retailers like Dollar Tree and Amazon and other online stores) all lot codes and expiration dates
Under investigation for the same reason:
Schnucks cinnamon flavored applesauce pouches(sold by Schnucks and Eatwell Markets)
Weis cinnamon applesauce pouches (sold at Weis stores)
They're Being Recalled Due To Lead Toxicity
From the FDA:
 Parents and caretakers should consult a healthcare provider if you suspect a child may have been exposed to lead. Short term exposure to lead could result in the following symptoms: headache; abdominal pain/colic; vomiting; anemia. Longer term exposure could result in the following additional symptoms: irritability; lethargy; fatigue; muscle aches or muscle prickling/burning; constipation; difficulty concentrating/muscular weakness; tremor; weight loss.
The FDA is advising parents and caregivers not to buy or feed WanaBana apple cinnamon fruit puree pouches to children because the product may contain elevated levels of lead. Parents and caregivers of toddlers and young children who may have consumed WanaBana apple cinnamon fruit puree pouches should contact their child's healthcare provider about getting a blood test.
If you have these in your home, the best bet is to toss them out.  However, I'd also consider taking them back to the store you bought them from and getting a refund.
Too many times when food is being recalled the consumer is asked to just toss them instead of asking for a refund, which makes the manufacturer more accountable.  Ask for a refund.  Something has to make them start caring about the quality of their product.
Montana's Museum Of The Rockies Is For Everyone! Check It Out
Museum of the Rockies
is nestled right next to Bobcat Stadium in Bozeman. The Museum is part of the
American Alliance of Museums
, which means that the Museum of the Rockies is one of the 1,095 museums to hold this distinction. With over 33,000 museums nationwide, this is quite an accomplishment.
The Museum of the Rockies is also part of the
Montana Dinosaur Trail
. What is that? It is a trail that runs through the state of Montana and has 14 locations. Each location will get you just a little closer to the history and knowledge of Dinosaurs.
Museum of the Rockies has current and rotating exhibits. Currently, (December 2021) here are some of my favorites that are on display:
Siebel Dinosaur Complex
,
Welcome to Yellowstone Country
, which digs into the history of Montana,
Enduring Peoples Exhibit
, highlighting the American Indians of Montana, and the
Paugh Exhibit
, illuminating the stories that connect us with the Northern Colorado Rockies. You can see all the exhibits
here
to make planning your trip easier.
Museum of the Rockies is an independent 501 Non-Profit here in Bozeman. With that being said, they hold some of the most exquisite
benefits throughout the year.
This gives the museum the opportunity to continue to be a highlight for the city of Bozeman. Another way to continue the success of the Museum of the Rockies is to
become a member.
If you are considering donating to the Museum of the Rockies, you can check it out
here
and decide which program works best for you. Help Bozeman keep this amazing learning tool open and available to everyone. Enjoy your time at the
Museum of the Rockies
.
Gallery Credit: Megan Shaul
5 Excellent Hacks For Recycling In Montana
This guide will help your Montana recycling efforts go the furthest. Learn what to recycle and what NOT to recycle, and alternative ways to recycle items that you're not supposed to put in the bins. (We screw this up a lot.)
Gallery Credit: mwolfe
The Top 10 Largest Montana Based Companies By Its Employees
Here are the top 10 employers in Montana based on the number of employees they have.
Gallery Credit: Nick Northern