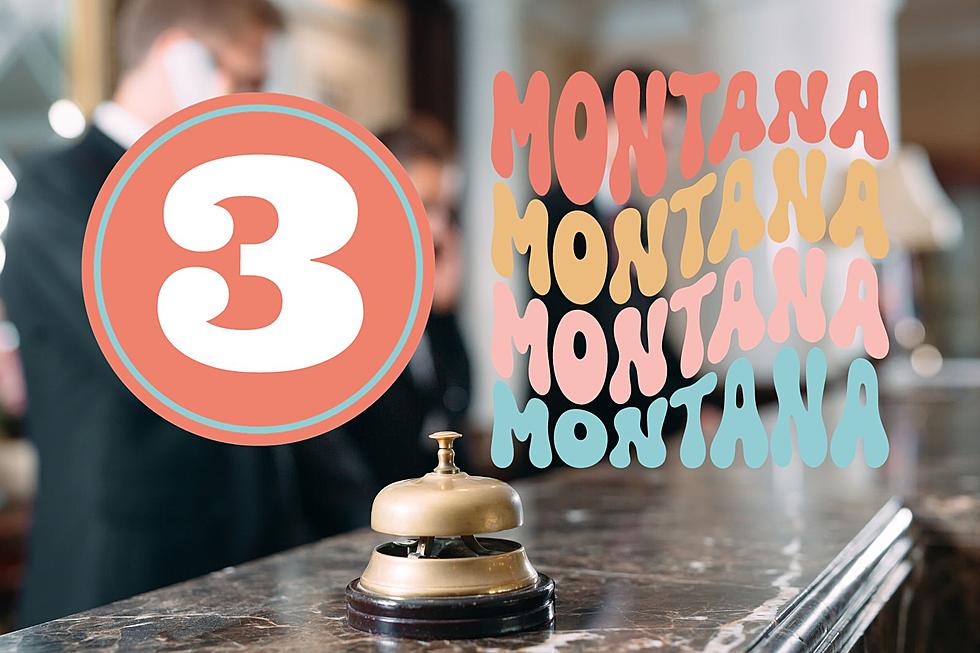 3 Surprise Montana Towns On Yelp's Top 100 Places To Stay List
Canva
Yelp's Top 100 Places To Stay List Includes 3 Unique Montana Towns
Each year Yelp compiles a list of user generated reviews of practically every hotel in America and releases their "Top 100 Places To Stay List."
Most people would assume to find places like Missoula, Bozeman, Billings or maybe even Great Falls making the list, but that isn't the case this year.
You won't find The Northern Hotel in Billings on this list, nor will you find the O'Haire Motor Inn in Great Falls, which has gone through a massive "retrovation" as they are calling it.
Even Bozeman which has garnered the nickname "Boz-Angels" and has seen the town become the "chic" or "boujee" town in Montana, and has luxury places like the Kimpton Armory Hotel, is absent this list.
What 3 Montana Towns Made The Yelp Top 100 Places To Stay List.
Before we reveal the 3 places that made Yelp's Top 100 Places To Stay list, a little of how they put their list together.
According to Yelp this is their method,
To create Yelp's Top 100 US Places to Stay list, we ranked the different lodging categories using a number of factors, including the total volume and ratings of reviews between January 2021, and May, 2023."
So, now that we know how they pick the places, let's look at the highest ranked one in Montana coming in ranked at #43
Wonderland Cafe & Lodge in Gardiner, Montana
Most of the reviews on Yelp seem to be for the cafe portion of the Wonderland Cafe & Lodge, but Micah K. had this to say about it.
Absolutely outstanding in every possible way! We spent a few days at the Lodge and ate at the cafe nonstop. The menu is complete and interesting, and every dish we tried was killer. The staff is super cool and on top of it, and our room in the Lodge was even nicer than we hoped. It felt like a good value too.

Can't wait to come back.
The next place on the list came in ranked #73.
Sage Lodge In Pray, Montana
This is what Yelp user Eli S. had to say about the Sage Lodge,
Amazing getaway even on the off season!
Looking forward to coming back in the summer!
My wife and I decided to take a relaxing few days off in Paradise Valley and embrace the Montana winter. We ate in the Fireside room, went on walks, played games in the lobby, and enjoyed the hot tub all to ourselves with a snowy view of the mountains.

The fireside room is recommended! All the staff were friendly and helpful. Nothing like ending the day with a smoked old fashioned and an elk steak!

They also had some fun events, like a guided hike and a class on tying your own fly for fly fishing. I recommend doing as many complimentary (included) activities!
The last place in Montana making the list sneaked in ranked at #93.
Good Medicine Lodge in Whitefish, Montana
Here is what Ashleigh had to say about her stay on Yelp,
One of my favorite stays yet! My husband and I stayed at Good Medicine for 3 nights and didn't want to leave. Sara and Ryan have created a special place, full of thoughtful details. From the daily cocktail hour and homemade breakfast to cozy decor - it feels like Grandmas house (in the best way)!
While you may find more places to choose from by staying in the "big cities," it sounds like to get some of the best experiences under the Big Sky, you should search out the smaller more personal places in Montana.
LOOK: Stunning, historic hotels from every state and the stories behind them
Stacker
curated this list of stunning, historic hotels from every state. To be considered for inclusion, the structure must be more than 50 years old. Many of the selected hotels are listed on the National Trust for Historic Preservation, and several are purported to be haunted.
Gallery Credit: Erin Joslyn
KEEP READING: The 10 Best Places To Stay When Visiting Great Falls Montana
Here are the 10 best places to stay in Great Falls Montana according to
Trip Advisor
.
Gallery Credit: Nick Northern