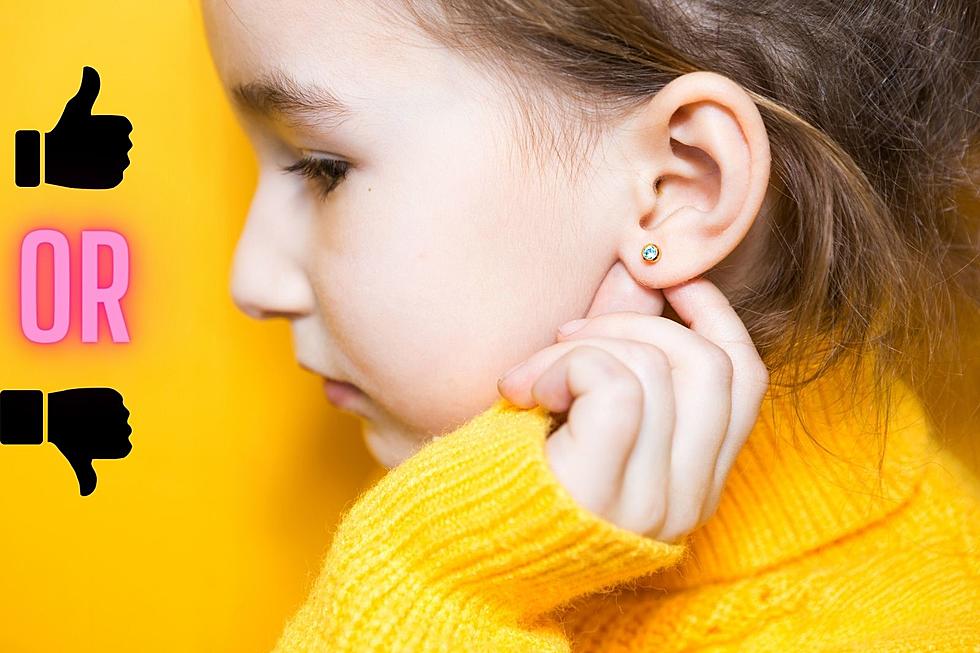 Would You Pierce Your Kids' Ears Before Age 10? Best Places in Billings To Get Pierced
Credit: Canva
Would You Pierce Your Kids' Ears Before Age 10?
Piercings are my favorite way to decorate the human body, but not everyone likes needles. My mom actually let me get my ears double pierced by age 11, and at 13 years young she let me get my belly button and eyebrow pierced at the same time. I was the first person in my middle school to get this done, and it started a trend among my classmates.  
This isn't a debate whether a 10-year-old is too young to get a piercing.
It's about having a conversation around body piercings. I've seen people get their 6-month-old babies ears pierced which, not going to lie- seems a bit cruel to me because the baby didn't give consent to have a needle stab their ears and they end up crying for a long time. However, getting a baby's ears pierced is tradition for some people. No hate from me- just some awareness among body jewelry in different cultures. 
Body piercing is a way to express yourself.
That's why I have 7 piercings, but I took my eyebrow ring and belly ring out years ago and I kind of miss them. If your kid does want to get their ears pierced, here's a piece of advice: close your eyes when you get them done and take a deep breath. The piercer will likely count down 3..2..1 and then pierce. It happens so fast, and then you have beautiful jewelry to accent your personality.  
Here's a list of the best places in Billings to get your kids' (or your own) ears pierced based on reviews. 
Don't do it yourself at home, that's asking for a disaster. Leave it up to the professionals.  
(5) BodyWorks Tattoo & Piercing 
(4) Eternal Ink
(3) Cin City Tattoo & Body Piercing 
(2) Bombshell Body Piercing & Tattoo 
(1) KO Body Piercing (Forget Me Not Tattoo) Our Personal Favorite! 
10 of the Best Montana-Inspired Tattoos We Could Find
Submitted by you on social media, these Montana tattoos really stand out! Check them out!